THE SECRETS FOR A FUN, NATURAL AND POWERFUL RUNNING STRIDE
Light Feet Running (or "LFR") is a genuine method which precisely provides the runners with the necessary tools to implement proper and efficient running biomechanics to increase the pleasure of running, to reduce the risk of injury and to increase performance.
Since 2015, several thousands of runners in France, Switzerland, Belgium and Germany have applied successfully this method which is recommended by numerous podiatrists and physiotherapists.
Best-seller, the book is currently available in French and German.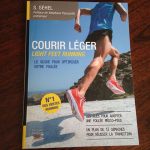 In addition to the book, running clinics are organized regularly in Europe to implement, in a half-day format, all the basis of this technique with the help of drills and video analysis : for more information, click on the "clinics" link on the right corner of this page.
Light Feet Running is a totally independent non-profit organization and has no commercial links with sporting good stores or shoe manufacturers of any kind.